70 Beautiful Wedding Cakes From Around The World To Get Inspiration From
Beautiful wedding cakes are the icing on the cake of a wonderful day. Make yours more special by celebrating your family's heritage or a favorite place's cuisine. A decadent wedding cake, both in taste and beauty, is one of the few things that make us happy. Dessert trends come and go, but nothing compares to a scrumptious cake that appeals to more than one sense. Our favorite kind of wedding cake makes a statement while still complementing your wedding decor. Today we have 70 beautiful wedding cakes from throughout the world – dessert is on the table!
Our list of pretty wedding cakes includes traditional cakes, boho-inspired cakes, some with funny cake toppers, DIY, elegant, themed, and examples of cultural wedding cakes. Indeed, something for everyone. It's your wedding, cake, and memorable day, so let's find the perfect cake for you!
Disclaimer: This post includes affiliate links. When you make a purchase we receive a small commission at no extra expense to our readers.
Things You Should Consider When Picking A Wedding Cake
Pretty wedding cakes are the most delicious part of your wedding, and ordering one is fun! Here's a quick rundown of four things to consider while selecting your dream wedding cake. I hope it has given you some insight into the wedding cake ordering process.
The Wedding Theme
First and foremost, your wedding cake should fit the wedding theme. Consider incorporating your wedding color palette or wedding theme. For example, if you're having a rustic wedding, add a rustic touch to your cake, boho details, luxury, glamorous touches, etc.
Size Of Your Wedding
One major thing that impacts what size wedding cake you need is how many guests are invited. Dessert is one of the things that guests look forward to, so you'll want to make sure the cake is big enough for everyone to get one piece.
Dietary Restrictions
So, selecting the flavors of your wedding cake is extremely important. Designing the most beautiful wedding cakes is one thing, but it's another to make sure everyone can enjoy it. Keeping to some traditional wedding cake flavors is always a safe bet.
Budget
The size and complexity of the design impact the price of a cake. While everyone appreciates beautiful wedding cakes with intricate details, you'd be amazed how much effort it takes to make one. Sugar flowers, which are handmade, time-consuming, and expensive, are one example of a decoration that can drastically increase costs.
70 Beautiful Wedding Cakes From Around The World
Now, let's get to the good stuff! Here are 70 of the most beautiful wedding cakes from around the world.
Classic Wedding Cakes
1. Vintage Wedding Cake
What a beautiful wedding cake! This lovely 3-tier vintage wedding cake has a ribbed design and delicate flowers and greenery. It's a simple and sophisticated cake.
2. Monogrammed Wedding Cakes
Wow! This has to be one of the most beautiful wedding cakes ever! This gorgeous monogrammed wedding cake has a unique floral design on one of the tiers and was adorned with the couple's first initials in a gentle blue.
3. Classic White Wedding Cake
The bakery softly embellished an elegant three-tiered ivory wedding cake with the palest sugar blossoms in grey-blue, cream, and blush in this classic white wedding cake.
4. Timeless Spring Wedding Cake
We love this timeless spring wedding cake. It's a beautiful classic white wedding cake with fresh blush and hot pink flowers.
Wedding Hashers has industry experts who share their tips with you for free! Sign up to have their wedding expertise delivered right to you.
5. Detailed White Wedding Cake
If you're looking for a gorgeous and simple wedding cake, you'll love this one! It's a detailed white wedding cake with stripes on two tiers, an intricate floral design on the bottom layer, and a monogrammed initial on the third tier.
6. Pink Floral Spiral
Beautiful wedding cakes always seem to include flowers. And we love how the baker added a pink floral spiral on this white, 5-tier wedding cake.
7. Sugarcraft Mold Wedding Cake
You can never go wrong with a solid all-white wedding cake with intricate details—a stunning classic and vintage look.
8. Three-Tier Floral Cake
Pretty wedding cakes are always expected at weddings, and this one will not disappoint—a gorgeous white 3-tier floral cake with large roses and greenery.
9. Textured 4-Tier Wedding Cake
Simply textured and classic 4-tier wedding cake with floral details.
10. White Wedding Cake With Decor Beads
Keep it simple with the white wedding cake with decor beads, small flowers, and a beautiful cake topper. This cake topper has an elegant gold initial, but you can also have a custom-made cake topper with your wedding hashtag.
DIY Wedding Cakes
11. Coconut Raspberry Lime Leaf Cake
If you want a unique flavor experience, make a coconut raspberry lime leaf wedding cake.
Get The Cake Kit: The Caker
12. Spiced Pear Wedding Cake
This Neiman Marcus-exclusive cake kit includes everything you need to assemble a warmly spiced cake with pears and topped with ornaments.
Get The Cake Kit: The Caker
13. Espresso Dark Chocolate
This cake is for true coffee connoisseurs who aren't afraid of the stimulant. I decorated the cake with semi-sweet Callebaut dark chocolate and cocoa nibs.
Get The Cake Kit: The Caker
14. Flourless Dark Chocolate Gold Leaf Cake
Another fantastic DIY wedding cake by The Caker. Flourless Dark chocolate Gold Leaf Cake is truly a unique idea for your wedding cake.
Get The Cake Kit: The Caker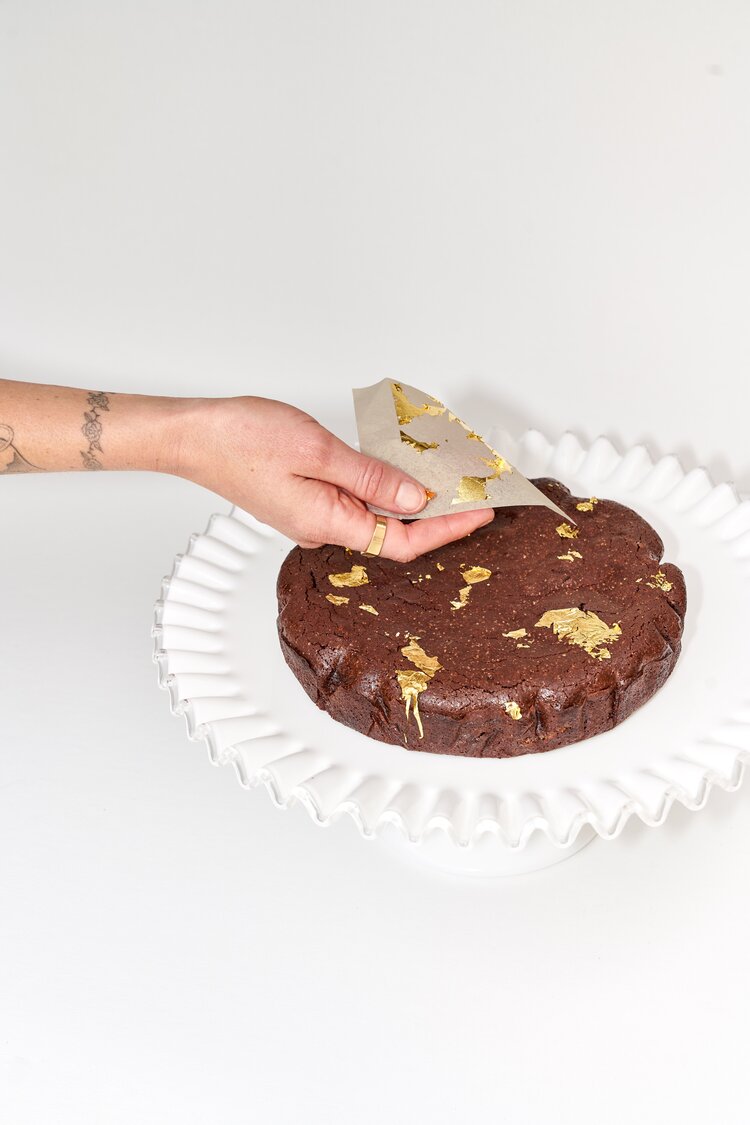 15. Lemon Strawberry Poppy Seed Wedding Cake
This DIY cake kit makes a deliciously moist and not-too-sweet cake that smells like paradise. The cooked cake has a satisfyingly rich crumb enhanced by poppy seeds. The scents of lemon and strawberries combine to create the perfect summer wedding cake.
Get The Cake Kit: The Caker
16. Matcha Cherry Wedding Cake
The tart and juicy cherries in this cake balance out the distinct flavor of the certified organic matcha swirled into the batter, while the matcha glaze adds a touch of sweetness. Wow, your guests with the Matcha Cherry wedding cake for a unique dessert option.
Get The Cake Kit: The Caker
17. DIY Butter Vanilla Cake
Make your wedding cake at home. This two-tiered vanilla wedding cake is simply designed and lovely, and it comes with complete assembly instructions.
Get The Recipe: Sally's Baking Addiction
18. DIY Carrot Wedding Cake
If you're a carrot cake fanatic, make a DIY carrot wedding cake! This carrot cake is truly the greatest, with its fantastic spice taste, wonderfully moist texture, and silky cream cheese icing. For a richer flavor, use brown sugar and roasted pecans.
Get The Recipe: Sally's Baking Addiction
19. Red Velvet With Cream Cheese Frosting
Red velvet cake is more than just a red vanilla cake. This recipe makes the most fantastic red velvet cake with exceptional buttery cocoa flavors, vanilla, and a wonderful tang from the buttermilk. The secret is whipping the egg whites, ensuring a velvety smooth crumb.
Get The Recipe: Sally's Baking Addiction
20. Lemon Wedding Cake
For a fresh and light flavor, make a lemon wedding cake. It's sweet, moist, buttery, and loaded with fresh lemon. Enveloped with lemon cream cheese buttercream and then garnished with whipped cream, it's a delectable summer wedding cake.
Get The Recipe: Sally's Baking Addiction
21. Zebra Wedding Cake
It's similar to marble cake, but it's a little more flamboyant. Zebra cake is commonly made as a single layer or Bundt cake.
Get The Recipe: Sally's Baking Addiction
If you want to see more DIY wedding cake ideas, check out our post on DIY wedding cakes!
Boho Wedding Cakes
22. Gold Flakes Wedding Cake
We love this boho wedding cake! It's three tiers with gold flakes splashed on one side and large flowers in earthy tones. Simply divine and has to be on any pretty wedding cake list.
23. Two-Tier Rustic Cake
A simple and elegant 2-tier wedding cake with rustic details. It's one of the most beautiful wedding cakes; we love the large flowers, greenery, and wispy leaves.
24. Lightly Frosted Wedding Cake
Nothing better than a semi-naked cake to create a rustic look. This lightly frosted wedding cake is picture-perfect and looks yummy.
25. Bohemian Wedding Cake
The Bohemian Wedding Cake is suitable for various occasions, but it's especially well-suited to weddings due to its solidity and precision cut. It's a semi-naked wedding cake with sugar-frosted fruits, sprigs of greenery, and a large flower on top.
26. White Frosted Wedding Cake
This stunning wedding cake has a magnificent three-tier semi-naked wedding cake with a beautiful cascade of peach flowers and unique sprigs of greenery for texture.
27. Word Inspired Short Cake
When it comes to a bohemian cake, you can use various colors, and this design does it beautifully. The gentle cream foundation with bursts of vivid orange and scarlet is one of our favorites. It's made much more intriguing with a topping of fresh blossoms and dried sprigs.
28. Three-Tier Cake With Marble & Gold Accents
Yes, please, a three-tiered cake with gold embellishments and marble details! What a lovely wedding cake! This is a show-stopper!
Wedding Hashers has industry experts who share their tips with you for free! Sign up to have their wedding expertise delivered right to you.
29. Pompous Cake Wedding Cake Decor
Although there's no flower ornamentation on the cake, the irregular texture on the surface gives it a textured appearance. A simple wedding cake can be coupled with various decorations to become the table's focal point.
30. Dried Florals Wedding Cake
This is the perfect wedding cake for an outdoor wedding. The dried florals wedding cake is rustic, earthy, romantic, and gorgeous! Designed by Autumn Nomad, this cake will create stunning photos. Too pretty to eat?
31. Skull With Flowers Boho Cake
This white cake is a treatise to the chic bohemian style, with a hand-painted bohemian skull with blooming flowers and foliage. The pure white royal icing is the perfect canvas for the painting in the center with the finishing touches of wheat and pink buttercups! So if you're looking for a unique dessert idea, this skull with flowers boho cake is the way to go!
32. Boho Rainbow Wedding Cake
A girl's dreams may be best described as butterflies, rainbow, celestial bodies, glitter, and beautiful pastel flowers, and here's a cake that embodies all these magnificent and stunning qualities. A 4-tier work of art with white icing, rose gold frosting, an abundance of pink and pastel-colored flowers, and the glittery symbolism of rainbows and stars makes for a wedding cake that no one will ever forget. We love this boho rainbow wedding cake! Pretty wedding cakes are every bride's dream.
Elegant Wedding Cakes
33. Pastel Wedding Cake
A floral cake is the quintessential wedding cake, but this pastel floral design is a deviation from the norm as it looks like an artist made broad strokes across a perfect white canvas. The glittery pastel appeal is elaborated by the most spectacular array of baby pink flowers fitted on the top like a crown.
34. Honey Pear Cake
A honey pear cake with splashings of honey trickling down is a nostalgic delight reminiscent of an afternoon at your grandmother's. However, a wedding cake doesn't need to be grand; this simplistic rustic design warm with the smell of honey and pears is a comforting prospect.
35. Dark And Moody Wedding Cake
For lovers of vintage, gothic themes, this cake is a dream come true. Its burnt orange, burgundy, maroon, and beige icing, complete with dried roses and foliage, is like stepping into an old novel full of mystery and fantasy. The dark and moody wedding cake is unexpected and beautiful.
36. Desert Wedding Cake
Whether it's autumn or the throes of winter, an autumnal desert-themed cake is very appealing. This wedding cake is like a mirage in the desert with hints of green in orange, yellow, and burnt beige icing decorated with pink and orange roses and hydrangeas.
37. Persimmon & Gold Watercolor Cake
This persimmon and gold watercolor cake is an authentic artisanal creation decorated with orange, gold, and brown watercolor on a white icing background, complete with dried foliage and bunny tails and artfully created by Vanilla Bake Shop.
38. Gold Leaf Cascade Wedding Cake
If you're trying to recreate a regal, Greek-style with a bit of simplicity, this gold leaf cascade wedding cake is the one for you with its gold vines atop a snowy frosting.
39. Marble Hexagon Wedding Cake
If you're a lover of the Renaissance style and equate snowy white, smooth marble with grey veining as the epitome of class and good taste, this marble hexagonal cake design with gold veining is a delicious statement.
Designed and baked by Vanilla Bake Shop
40. Berry Naked Caramel Drizzle
This berry naked caramel drizzle is an ode to rich colors and flavors and is a spectacular joy to behold. Loaded with strawberries and blueberries doused with caramel and red and orange flowers, it returns you to the holiday season with a super festive vibe.
Themed Wedding Cakes
41. Cozy Winter Cake
This cozy winter cake reminds one of the holidays and comes decorated with wreaths, foliage, and little gingerbread shapes. Its warm and comforting allure is perfect for a simple wedding day delicacy.
42. Winnie The Pooh Wedding Cake
For all those brides and bridegrooms who grew up watching and loving the Winnie the Pooh cartoons, this cake is a blast from the past, with a large pot of 'Hunny' at the top and delicate paintings of the main characters in their much-loved forest. WOW, your guests with this Winnie The Pooh wedding cake.
43. New York City Wedding Cake
A New York City-themed cake is an edible collection of fun memorabilia showcasing the spirit of the Big Apple. Designed to be both chic and hip-hop, it's a rare cake that'll invite much speculation at your wedding!
44. Celestial Themed Wedding Cake
This celestial cake is like being cast into the galaxy where constellations, stars, and heavenly bodies reside in a world only found in sci-fi or futuristic movies and books. With icing of the most subtle amalgamation of colors from deep midnight blue to light blue to streaks of gold and silver, this cake entices the imagination and promises an adventure.
45. Cruella Wedding Cake
Everyone's favorite and most glamorous villain Cruella is now a cake with the iconic black and red combination and added red glitter around a white Dalmatian pattern of frosting. Who could ask for more? A Cruella wedding cake will be unforgettable!
46. Wedding Dress Inspired Wedding Cake
Every bride's fantasy wedding cake is an awe-inspiring cake inspired by their wedding attire. Wedding cake design based on bridal fashion is an art form but can be honed with experience. Of course, beautiful wedding cakes are expected, and it's hard to cut into them, but sweet treats and pretty wedding cakes are all part of the experience.
47. Sea Shell Wedding Cake
Did you always dream of being a mermaid? This glorious 5-tier cascading sea shell cake reminds you of the majestic ocean with an all-white shimmering pearl design decorated with seashells, starfish, and coral.
Unique & Beautiful Wedding Cakes
48. Short Floral Wedding Cakes
This single-tier blush pink floral buttercream shortcake is a beautiful wedding day dessert, mainly when laid on a spread of fresh and dried flowers, all in wondrous muted pink-brown tones. Short floral wedding cakes are a great choice.
49. Woodsy Wedding Cake
This woodsy wedding cake replicates in frosting all the natural textures you'll find in the wild, whether leaves, branches, or sand. Decorated with wild berries, branches, dried foliage, and stunning white hydrangeas, this wedding cake can be a showstopper for an outdoor, rustic wedding theme.
50. Layered Rice Paper With Dried Florals
This bohemian cake looks like flowing fabric in a rustic, outdoor setting. The effect is created by using rice paper that resembles silk blowing in the wind with dried vines, leaves, and roses for decoration.
51. Torn Waves & Gold Edges
For enthusiasts of the ocean and its powerful waves, this torn waves and gold edges cake inspired by the colors of the Mediterranean is a chic and refreshing option with its light blue and white coloring with gold trim.
52. Blue And Gold Drip Macaroon Cake
As far as uniquely stylish and beautiful wedding cakes go, it's hard to beat the navy blue and gold drip cake with gorgeous gold macaroons surrounding it; it gives a hint of a classic French style with a contemporary drizzle.
53. Cheese Lovers Wedding Cake
Everyone loves a wine tasting with various artisanal cheese offerings. A wedding cake that looks like slabs of well-aged cheese is aesthetically wonderful and invites curiosity and conversation, perfect for a wedding day treat!
54. Fruit Wedding Cake
A fresh fruit whipped cream wedding cake is like a homely example of a comfort dessert, and it suits simpler weddings wonderfully, especially when there's a smaller number of guests. Decorate the top with any choice of fruits you wish, such as strawberries, kiwis, and pineapples, and it can be adapted to every season!
55. Wedding Pancake
A tall majestic pile of pancakes can be fashioned into the ultimate wedding cake, especially if complemented with dried florals and foliage. Perfect for outdoor or farmhouse weddings! A wedding pancake is unique and unforgettable.
56. Cinnamon Roll Wedding Cake
Everyone loves cinnamon rolls in the colder winter months; now, imagine a cinnamon roll wedding cake with a towering sweet delicacy drizzled top to bottom with whipped cream. It's a crowd-pleaser at a wedding!
Extravagant Wedding Cakes
57. Blue Mural Winter Cake
A blue mural winter cake is nothing short of an artistic masterstroke with its vast array of blue tones, all melting into the other as if painted on by an expert hand. This tie-dye effect is complemented by gold sprayed foliage and rustic elements making this cake perfect for a wedding in the cold, icy winter months when you want to depict a bit of magic.
58. Italian Marble 5-Tier Wedding Cake
Italian marble has always been synonymous with luxury, refinement, and impeccable taste. Recreate that vintage vision in your wedding cake by having it fashioned in a marble finish, embedded with pearls and burgundy and darker colored florals to contrast with the snowy white.
Made By: Vanilla Bake Shop
59. Sequin Wedding Cake
A princess wedding cake like this understandably has gems and sequins embedded with beautiful white and pink florals adorning the sides. Sequins signify girly glamor and can be a delicious choice for the uber-stylish bride. We love this sequin wedding cake by Vanilla Bake Shop.
60. Cascading Colorful Macaroon Cake
If you love French desserts and are a fan of macaroons, this effortlessly stunning cascading multi-colored macaroon cake is to die for. It's simple yet eye-catching with its rainbow swirl that can be seen from afar.
Made By: Vanilla Bake Shop
Cultural Wedding Cakes
61. Indian Gold Cake
The gold color in Indian weddings is symbolic of wealth, prosperity, and lasting happiness. This regal and opulent all-gold cake with hand-perfected floral engravings and sublime white flowers is a statement like no other. This Indian gold cake is dreamy and delicious.
62. Japanese Origami Crane Cake
This unique wedding cake is made using the traditional Japanese art of origami with varying patterns and bright colors and is an incredibly alluring artistic offering. It's a Japanese origami crane cake; who would've thought it could be possible, but it is!
63. Kransekake – Norwegian Wedding Cake
Kransekake is a traditional confection adorned in the Norwegian culture made from almonds, eggs, and sugar. Choose a Norwegian almond ring cake that towers over other cakes with icing dripped on every ring and is an ideal wedding offering with its comforting, homely vibe. Get the recipe for the Kransekake Norwegian wedding cake here.
64. Moroccan Wedding Cake
Turquoise, gold, and maroon are the colors of choice for Moroccan architecture and décor, and an exotic Moroccan wedding cake encapsulates this aesthetic with exquisite gold calligraphy and patterns.
65. Thai Wedding Cake
A Thai wedding cake is an intricately baked delight usually made in bright and earthy tones like green, pink, blue, and purple. It also features traditional symbols like the elephant or specific plants.
66. Ethiopian Wedding Cake
This Ethiopian wedding cake is designed with the rich, beautiful colors of blue, red, gold, orange, and burgundy found in clothing like Habesha dresses and jewelry, pots, and other items. If you're a fan of an ancient, transcendent Ethiopian style, this wedding cake is for you.
67. Croquembouche French Wedding Cake
Traditional French cakes like the croquembouches are a majestic conical tower of piled-up pastry puffs secured with a thick layering of caramel and are the dessert offering of dreams. If you've always wanted your wedding cake to look like a giant structure of Ferrero Rochers, this is the next best option. Julien Drapeau makes this gorgeous Croquembouche French wedding cake.
Wedding Hashers has industry experts who share their tips with you for free! Sign up to have their wedding expertise delivered right to you.
68. Korean Wedding Cake
A Korean tie and dye wedding cake like this in orange pastel-colored icing is an absolute beauty. An adorable pair of dolls sit on top, signifying the happily wedded couple.
69. Turkish Gold Wedding Cake
Suppose you want to embrace the glorious Turkish culture with its incomparably beautiful architecture. In that case, this artistic wedding cake with gold frosting and a traditional arched floral pattern is a sublime choice.
70. Spanish-Inspired Wedding Cake
A traditional Spanish wedding cake is all about bright, enlivening colors like red, orange, blue, and copper-gold adorned with tropical flowers and traditional painted patterns on a white frosted background.
The Sweetest Celebration
That's it! The most beautiful wedding cakes from around the world! Maybe you've got an eye for earthy boho wedding cake designs. Perhaps you want to keep things traditional with a simple wedding cake. Or perhaps you're whisking away for an adventurous, intimate elopement and want a small but pretty wedding cake to take with you. There are thousands of ways to plan a wedding, maybe a million different ways, but we always find a way to celebrate them in the same way— with a nod to the sweet tooth.
#WeddingExperts
Wedding Hashers has industry experts who share their tips with you for free! Sign up to have their wedding expertise delivered right to you.